The Gauteng Department of Community Safety has heeded the call to educate people and create awareness especially in townships about burning issues such as Gender-based Violence, alcohol and substance abuse, road safety as well as #Covid-19 awareness. The outreach program which recently took place in Garankuwa mall and Zone 16 was spearheaded by Gauteng Community Safety officials as well as the members of the local police station.
According to Hlulani Mashaba, who is the Acting Deputy Director for Media Relations at the Gauteng Department of Community Safety, the outreach program was a success and it has achieved the intended outcome.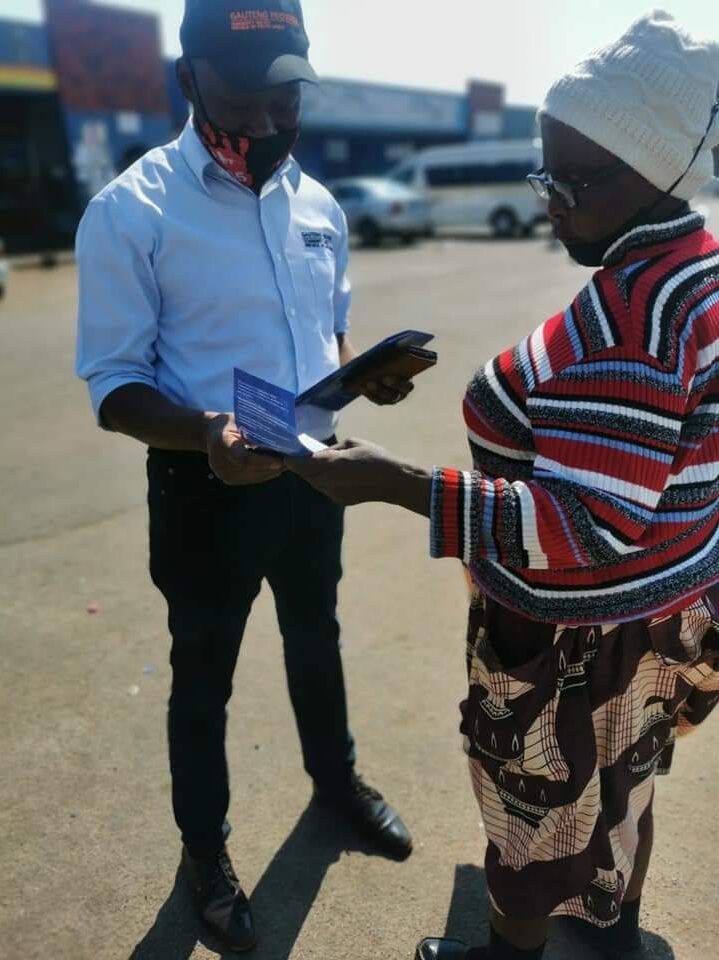 "The area is rife with the use of alcohol and substance abuse, gender based violence incidents and lack of adherence to Covid-19 health protocols. We managed to make the community aware of the dangers of not adhering to the Covid-19 health protocols and lockdown regulations. We also handed safety pamphlets for ease of reference and urged them to report any form of criminality to the police," said Mashaba.
Mashaba further indicated that through the outreach program in Ga-Rankuwa, the community was empowered and delighted to see government in action.
"It is through these programs that we can make an impact in our communities".
Despite the outreach program's plausible success and impact, Mashaba also elaborated on some challenges that they encountered in Ga-Rankuwa.
"We have noticed that there are few people who still disregard the Disaster Management Act regulations, and therefore from time to time, it is critical that we educate them on such issues," he added.
Mashaba spoke strongly against Gender Based Violence in townships and highlighted the need for government to take awareness to townships and educate communities about the importance of protecting women and children.
He said, "It is important because women's rights have been violated for by their loved ones and strangers alike. Therefore it is important that we educate our communities to be protectors of women and children in their respective spaces. Gender based violence cannot continue unabated. Together, we can put an end to this scourge and demon that is terrorising our communities.
"We have in recent times enlisted Gender-Based Violence Brigades to ensure they conduct door to door to create awareness on the impact of gender-based violence. These Brigades are also there in Ga-Rankuwa. This is one of our concerted efforts to fight the scourge of gender-based violence. Also worth noting, the Department is currently rolling out Green Doors in most communities. Green Doors are safe sites that are situated within five kilometres to the local police station. They assist with emotional containment, trauma debriefing and referral to the nearest police station".
Asked whether the Criminal Justice System was doing enough to punish perpetrators of Gender Based Violence, Mashaba responded, "The Criminal Justice System is doing something, however there is more work that still needs to be done to rid our communities of crime. It is important that harsher sentences are given to perpetrators of GBV, that will send a strong message that Gauteng has no place for perpetrators of violence against women and children".
Mashaba also urged men who were victims of Gender Based Violence to speak up just like their female counterparts.
"Men must also speak up as well. I urge them to join safety structures such as Men As Safety Promoters at their local police stations to ensure that they join a social movement in the fight against crime. Men are also within their right to report any element of abuse to their local police station," he concluded.

To report any GBV related issues, people are advised to call the GBV Hotline number on The Centre which operates an Emergency Line number – 0800 428 428, and it is also supported by a USSD, "please call me" facility: *120*7867#.
GET THE LATEST NEWS
delivered directly to your feed.
READ ALL HERE : E – EDITION